"Hospitals Fast-Track Treatments for Hip Fractures" - The Wall Street Journal
Published
November 7, 2016
An X-ray of a pelvis. New, faster approaches to dealing with hip fractures aim to prevent death and complications. PHOTO: GETTY IMAGES
By Laura Landro
For older people who fracture a hip, the prognosis is grim: a third or more die within a year and only about 1 in 5 return to their pre-injury level of function.
A new approach to care could mean it doesn't have to be that way.
More hospitals are putting hip fracture patients on a fast track from the emergency room to the operating room, repairing the fracture in as little as six hours after diagnosis. The approach appears to produce significantly better outcomes for patients than the conventional practice of waiting up to three days before operating on the fracture. It can also reduce the costs of complications and longer hospital stays.
Fast-track hospitals also are providing follow-up care in special geriatric fracture clinics that steer patients through rehabilitation, provide treatment to strengthen bones and help them return to independent living.
Martha Aldredge, 76, fell and fractured her hip in April while looking for a seat at her granddaughter's high school concert near Greenville, S.C. PHOTO: AMY A. CHAPMAN
An estimated 340,000 older adults suffer hip fractures in the U.S. annually, and many of them have other medical issues such as high blood pressure or heart disease. Doctors and surgeons have taken the position that fractures weren't true emergencies, and studies suggested delaying surgery allows more time to evaluate patients and stabilize other conditions before giving them medical clearance for an operation.
But a review of more than 2 million patients led by researchers at NYU Langone Medical Center's Department of Orthopaedic Surgery, and published last year in the Journal of Orthopaedic Trauma, found that compared with same-day surgery, each additional day of delay was associated with a significantly higher overall complication rate. And surgery two days and three or more days after admission was associated with higher rates of death.
The deaths are a combination of "complications related to the hip fracture and surgery, and overall decline in health that seems to be hastened after hip fracture," saysDr. Joseph Zuckerman, study co-author and chair of Orthopaedic Surgery at NYU Langone.
"We have to start thinking differently, and treat a hip fracture with the same urgency as a heart attack or a stroke," says Philip J. Devereaux, a cardiologist and researcher at McMaster University in Hamilton, Ontario, Canada. He says delays can cause the physical trauma of a fracture to spark inflammatory responses in the body that increase stress on the heart and the immune system and increase risk for complications.
Dr. Devereaux, who also heads a surgical research group at McMaster's Population Health Research Institute, is leading a large international trial, called Hip Attack, which will enroll up to 3,000 patients in 20 countries. The study will compare surgery within 6 hours for a hip fracture against standard care, typically surgery 24 hours after diagnosis. The aim is to determine the impact of accelerated surgery on death, heart attack, stroke, infection, and major bleeding. A pilot study in 2013, published in the Canadian Medical Association Journal, suggested patients receiving accelerated surgery had a 40% lower risk of major complications.
It took just one missed step for Martha Aldredge, 76, to fall and fracture her hip one evening last April while looking for a seat at her granddaughter's high school concert near Greenville, S.C. Though bystanders helped her up and she managed to sit through the concert, she wasn't able to walk when it was over. After being helped into a rolling chair, a friend drove her to the emergency room of the Bon Secours St. Francis Health System's Eastside campus in Greenville.
An X-ray showed the hip was badly fractured, so she was transferred by ambulance to the St. Francis Hospital in downtown Greenville where orthopedic surgeon Michael O'Boyleoversees the Osteoporotic Fracture Program dedicated to the care of older patients with hip fractures.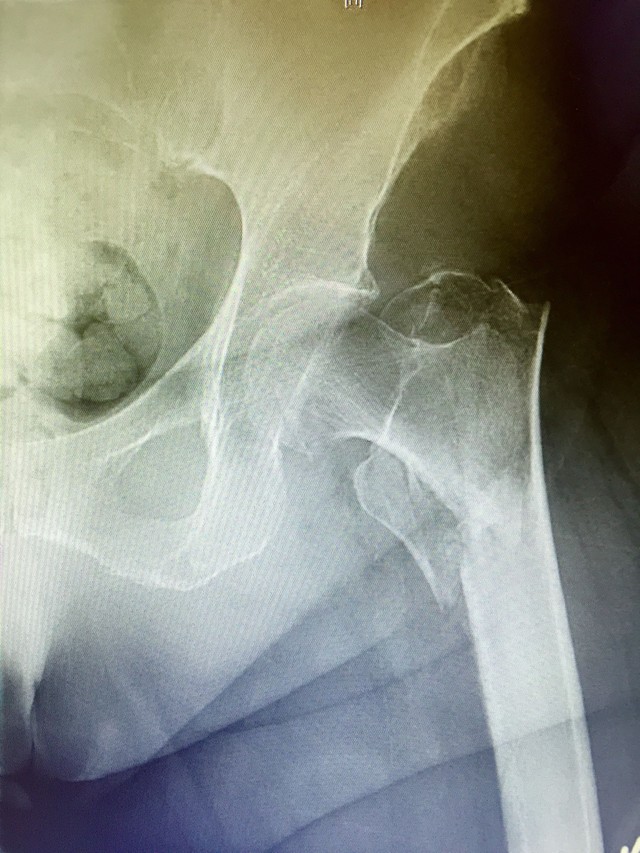 An X-ray of Martha Aldredge's fractured hip. PHOTO: BON SECOURS ST. FRANCIS HEALTH SYSTEM
In the OR the next day at 5 p.m., Dr. O'Boyle inserted a long y-shaped rod in the femur bone from her hip to her knee. Ms. Aldredge stayed on an orthopedic floor for three days before being transferred to a rehabilitation floor for four more days.
"They made me walk right away, which turned out to be a great thing," Ms. Aldredge says. Dr. O'Boyle's team told her about the importance of building up muscle and she started outpatient physical therapy a week later, going two days a week for three months. She was able to stop using a walker and, after a break from therapy, is continuing for several more sessions to build her stamina. She is back to driving herself, and says her bones are in good enough shape that she doesn't anticipate future problems.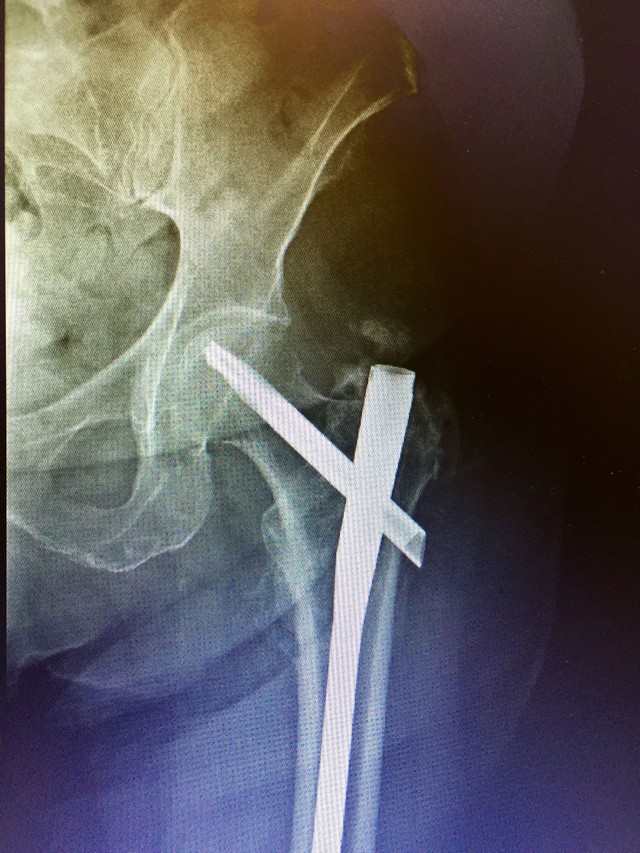 Ms. Aldredge's doctor inserted a long y-shared rod in the femure bone from her hip to her knee. PHOTO: BON SECOURS ST. FRANCIS HEALTH SYSTEM
Dr. O'Boyle says it took a major cultural change to provide such care at St. Francis. In the past, he says, hip fracture patients were triaged as non-urgent cases in the ER, where they waited on average for eight hours, and then might wait nearly three more days for surgery, scheduled as a "waiting list" case. Patients were given heavy narcotics for pain, which contributed to a problem known as postoperative delirium for close to 80% of them, leading to longer hospital stays. There was little coordination of care among doctors, nurses and social workers to ensure good follow up care, and patients and families were often anxious due to poor communication. "We were not doing a good job, and the results were abysmal," Dr. O'Boyle says.
The fracture clinic has helped improve results. The team coordinates care with emergency medical services to make sure patients don't get too many narcotics and fluids before they arrive at the hospital. Time in the ER has been cut in half, and most cases are in surgery within 14 to 19 hours.
Since 2007, hospital stays have been reduced to less than four days from more than eight days. The delirium rate has been cut to 10%, and 75% of patients return to independent living. The mortality rate one-year postoperatively is less than 18%, according to Dr. O'Boyle. And patient and family satisfaction scores are at nearly 100%.
The clinic also coordinates care after discharge with rehabilitation programs, which it had not done in the past, to ensure patients follow its post-op instructions and are closely monitored during physical therapy sessions. Dr. Boyle's team also evaluates and treats patients for osteoporosis and provides education on nutrition, falls prevention and exercise programs.
"We took an injury that was neglected and pushed off to the side with no sense of urgency and made it a priority, "Dr. O'Boyle says.