How to Understand & Prevent Injuries in High School Football
Published
August 22, 2017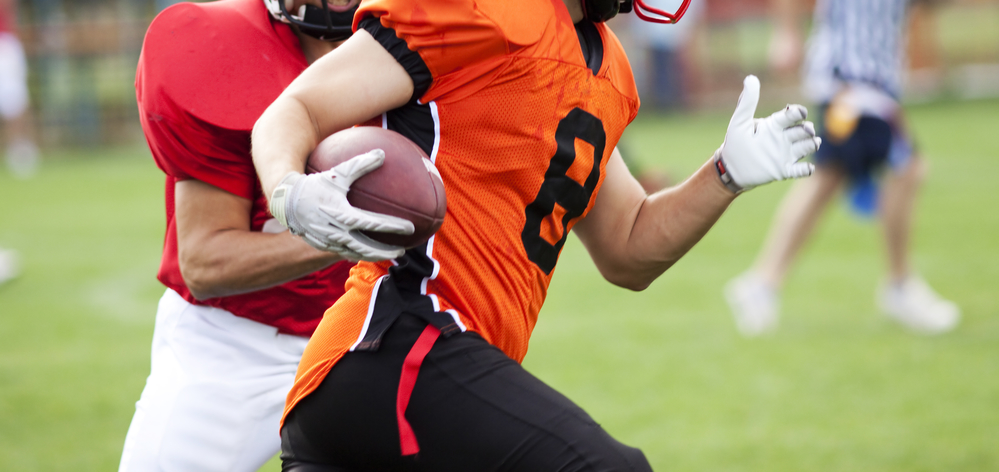 It may still feel like summer, but it's officially football season at local high schools. Student athletes are already in the midst of rigorous preseason training, and according to Dr. James Gardiner, now is the time to focus on training regimens and techniques that can help prevent injuries.
Dr. Gardiner is a sports medicine physician practicing in the Maryland Orthopaedic Specialists care center, and he also serves as the Head Team Physician for Seneca Valley High School Football. We asked him to share what players and parents need to know about common football injuries, including concussions, and how to avoid them when possible.
1. What services do team physicians provide to football teams? How do you help athletes stay strong and avoid injury?
We like to take a team approach to sports medicine, because it really requires the players, athletic trainers, coaches and parents to work together to build a safe environment for our athletes to play. Injuries do occur, and early and proper treatment can allow the athlete to recover more quickly and return to play. Injuries that are neglected can turn into chronic, longer-term problems. When everyone comes together, we can quickly determine if there is an injury and identify the treatment plan. Then the player can get the correct treatment, rest and rehabilitation to return to the field safely and as soon as possible.
2. What is one of the biggest challenges players face at the start of the preseason?
Right now, the heat can pose a challenge. We work to ensure our players are well hydrated, and one of the things I stress is that football players should have unrestricted access to water during practice and competition. They should never need an official water break. Whenever someone needs water, they should be able to simply get it. Athletes should plan on drinking at least 16-20 ounces of fluid one to two hours before play outside, and then six to 12 ounces every 15 minutes during this heat. In addition, practice during the hot afternoon hours should be avoided, and they need at least three hours between the two-a-day practices. They need those hours to rehydrate and cool their body temperatures back down.
3. Is it more common for players to sustain acute or overuse injuries on the field?
At this time of year, the beginning of the football season, we tend to see more overuse injuries. Kids are back on the field, sometimes practicing twice a day, and their bodies aren't used to it after some time off. That's why overuse injuries like strains, sprains and stress fractures tend to occur.
Once the season starts and there's more hitting in games, then you'll start seeing acute injuries. But we aren't seeing the numbers of acute injuries that we used to, because the structure of team practices has changed. They don't do much hitting in practice now, because they really can't afford exposing athletes to potential injuries during practice. There are a limited number of players, and you don't want to lose an athlete for a year because of a tackling drill in practice. So today, practices tend to focus on technique instead of hitting.
4. How can athletes prevent overuse injuries?
Being in shape with a balanced training regimen is the best way to protect the body. I tell our student athletes that they should have a four-part preseason workout that includes plyometric training, flexibility training, resistance training with speed and agility, and strength training. It's important that these kids don't just go into the weight room – they really need to combine it with stretching, flexibility, and speed work.
5. What are some of the most common injuries that a player can get from high school-level football?
According to data from the NCAA, 50 percent of all injuries occur to the lower extremities – typically ankles and knees. Another 20 percent of injuries are to the hands and upper extremities. Concussions make up seven percent of all football injuries. The good news is that the majority of these common injuries are not season-ending. A player may only be out for a few weeks, depending on the severity of the injury.
6. Are there any injuries a player can sustain but stay in the game?
Players get injured all the time and are often able to get back in, which is why it's so important to have an experienced athletic trainer and sports medicine physician available to evaluate the injury on the field.
7. There's been a lot of research and conversation about preventing and treating concussions from football. Are there any safety measures that players can take to protect themselves as much as possible?
Equipment plays a key role in preventing concussions. In fact, the number one safety measure that athletes can take is to make sure their helmet and mouthpiece fit properly. They must also follow the new training on how to tackle with their shoulders and their head up. They should no longer lead with their head down for a tackle – that can lead to concussions and spinal cord injuries. This is why athletes and parents need to be aware of how the team is coached, because not all coaches are up-to-date on the latest safe tackle techniques. There are online videos, training materials and data about teaching these tackle methods, which can be helpful for both coaches and players.
8. Should players and parents be aware of any concussion symptoms that might emerge after the initial testing?
Yes – because players aren't always truthful when we question them about a potential head injury. They want to stay in the game. In fact, according to research, more than 50 percent of high school football players didn't report a concussion. So, athletes and parents should be aware of symptoms such as continued pain, difficulty concentrating, increased sensation to light, blurred vision, nausea or ringing in the ears. Any of these symptoms can suggest a concussion, so the player should be re-evaluated should they experience these symptoms.
James S. Gardiner, M.D., specializes in sports medicine at the Maryland Orthopaedic Specialists care center in Bethesda, Maryland. He serves as the Head Team Physician for Seneca Valley High School, and is a Fellow of the American Academy of Orthopaedic Surgery.