Becker's Spine Review, "The Centers for Advanced Orthopaedics partners with Healthjump: 6 key notes"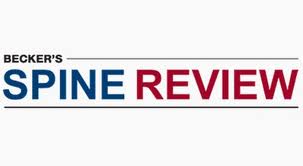 By Laura Dyrda
The Centers for Advanced Orthopaedics partnered with Healthjump to facilitate physician-to-physician communication and analyze patient data across the 50 affiliated medical facilities.
Here are five things to know:
1. The practice and Healthjump are working on HIPAA-compliant technology platform to share medical records across affiliated providers. They'll use the information to develop best practices and prove clinical outcomes.
2. The Healthjump technology will integrate the EMR system and aggregate patient data to further improve outcomes for patients.
3. Physicians will be able to communicate and strategize quickly and securely on patient cases to provide better patient care.
4. The practice recently launched the Everseat app for mobile appointment-booking. The practice is focused on improving patient outcomes and communication with new technology.
5. The shift toward data and transparency is driven by the consumer revolution in healthcare. The practice is focused on gathering data and improving clinical outcomes while lowering the cost of care.
6. The Centers have 25 private practices and 1,450 employees across three Mid-Atlantic States.