HoopsHabit.com, "Indiana Pacers: Paul George is Going to Be OK"
Published
October 7, 2015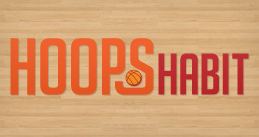 By Maxwell Ogden
On August 1, 2014, Paul George's professional basketball career flashed before our very eyes. Fresh off of a second consecutive All-NBA appearance, the Indiana Pacers star suffered a gruesome compound fracture of both bones in his right leg.
Roughly 14 months later, George is looking like himself again.
George is already one of the more decorated young players in the NBA. The 25-year-old is a two-time All-Star with two All-NBA Third Team nods, two All-Defensive Team selections and the 2013 Most Improved Player award.
On Tuesday, October 6, George reminded his critics of that reality by erupting for 20 points in the first quarter of Indiana's 115-112 preseason win over the Detroit Pistons.
That's about as dominant an opening quarter as one could possibly have.
George finished with a cool 32 points in 24 minutes. He shot 10-of-17 from the field, 5-of-9 from 3-point range and 7-of-8 from the free throw line with two rebounds and a steal to complement his scoring.
George's teammate, rookie big man Myles Turner, said what the rest of the world was thinking: George is back.
Indeed he is.
This was George's second consecutive impressive showing during the 2015 NBA preseason. He put up 18 points in 24 minutes on Saturday, October 3, albeit with some glaring signs of rust.
What both performances have proven, however, is that George still has the ability to be a star at the highest level.
The Recovery
For as scary an injury as the compound fracture was, it's not one that should have lingering effects. It's been over a year since the injury, which well exceeds the expected 6-to-10 weeks for the bone to heal.
According to Adi Joseph of USA TODAY Sports, Dr. Nicholas Grosso, a sports medicine surgeon and the president of The Centers for Advanced Orthopaedics, believes that George's biggest hurdle will be mental.
Grosso cites NFL players recovering from knee ligament tears in saying it often takes until the player's second season back on the leg for them to regain full confidence.

"Adrian Peterson obviously was the exception," Grosso said. "But I do think that unless something goes wrong in rehab, he could be the same player."
14 months later, one can't help but believe that he's far along the path to recovering his confidence.
Athleticism is an undeniable factor in George's game, but that doesn't appear to have hit any form of a decline. He can still finish above the rim and maintains a high grade of lateral quickness.
Standing at roughly 6'10" with a 6'11" wingspan, George's size and length can bail him out in the case that he's slowed down physically.
The reality is, George isn't a 30-year-old who's coming off of a severe injury or a hard-cutting guard with a history of bad knees. He's a 25-year-old forward whose health has never been much of an issue.
The fact that he's becoming more-and-more skilled as his career progresses is just the icing on the cake.
The Value of an Offseason
2014-15 painted a concerning picture of what's to come in Paul George's career. He averaged 8.8 points on 36.7 percent shooting from the field in just six games played.
The question is, what more did people expect from a player who made his season debut 76 games into the NBA regular season?
As nice as it would've been to see George return as Indiana's savior or night in shining armor, that wasn't a realistic expectation. The six-game period was meant to get his legs back under him, not for him to save the organization.
Anything else would've been a fortunate twist of fate, as evidenced by the fact he averaged just 15.2 minutes played per game.
Roughly six months after his 2014-15 NBA regular season debut, George is looking like himself again. That's the benefit of having a full offseason and training camp to prepare for healthy and competitive basketball.
It should go without saying, but players will perform at a higher level when they have time to healthily practice, train and prepare for an NBA season.
What To Expect
The question running rampant throughout Indiana is an obvious one: what can be expected of Paul George in 2015-16? Can he continue to pair All-NBA and All-Defensive Team appearances together? Can he lead the Pacers to a third trip to the Eastern Conference Finals?
Tempered expectations are always wise, but individually, George should come back stronger than ever before.
It may take him one-to-two months to get back to the level of efficiency and consistency displayed by an All-NBA player. George's defensive prowess should remain, however, and his scoring numbers should reach career-high levels.
The arrival of Monta Ellis, who boasts a career scoring average of 19.3 points per game, should do nothing but alleviate pressure from George as a scorer, thus resulting in a rise in efficiency.
Once the rust has been shaken off, George should continue to be one of the league's elite small forwards. Spending time at power forward could complicate things, but that's a growing pain unto itself.
As it pertains to PG13's return from injury to NBA stardom, Myles Turner is correct: George is back.