The Franchise Herald, "List Of Derrick Rose Injury Throughout The Years: Check How Many Times Chicago Bulls Star Got Hurt"
Published
October 1, 2015

By Rolly Gacelo
How long can Chicago Bulls endure a Derrick Rose injury?
Just when they thought the one-time NBA MVP is about to make a strong return after full recovery from knee injury that kept him sidelined for most of the last three years, news broke out that he is again out of the game after getting elbowed in the face in practice and now in need of a surgery.
Chicago Bulls new head coach Freid Hoiberg revealed Derrick injury happened after getting elbowed by one of the big men as he was making a "great baseline drive." He will need a left orbital fracture surgery and there is no time table for his return.
How many times did Derrick Rose got injured since coming into the league in 2008? Sports writer Tim Reynolds posted a photo on Twitter depicting a comprehensive detail of all the injuries the spitfire guard went through since his rookie year.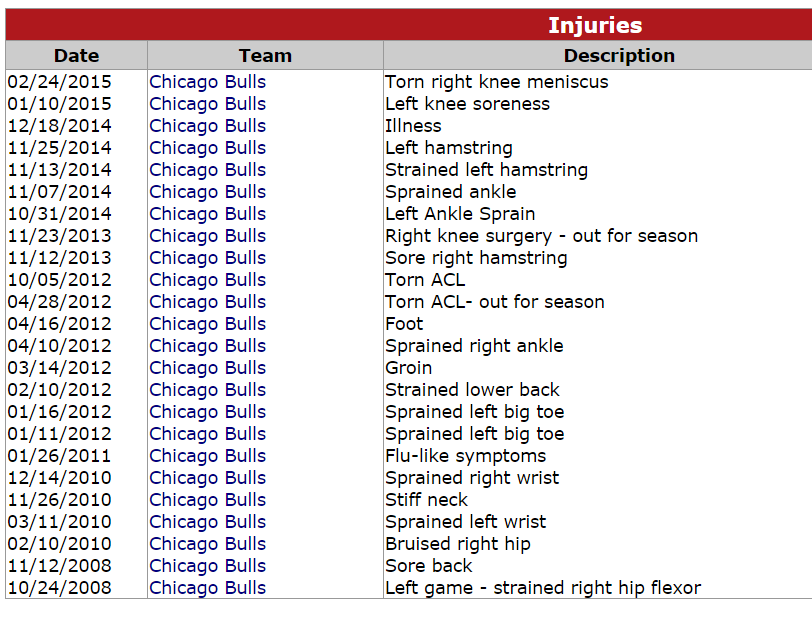 Tim Reynolds' Derrick Rose injury list does not include the one he suffered this week. The picture says there are 24 instances Rose got injured plus the orbital fracture, raising the total to 25. The latest one is probably among the worsts he suffered in his career.
Dr. Barry Boden, orthopaedic surgeon with The Centers for Advanced Orthopaedics - The Orthopaedic Center Division, said the face injury Rose suffered could mean 'downtime' for the Chicago Bulls star point guard.
"It obviously means downtime for Derrick Rose. He's going to be in a fair amount of pain until he has the surgery," he said as per USA Today.
"There's going to be some post-operative pain. It is a treatable injury ... It sounds like he's going to be having surgery to repair the bone and that way you can stabilize it, you can also rehabilitate it faster."
Can Chicago Bulls cope up with this loss? Will Rose ever get going again with his career following his injury?