Q&A : How to Use Yoga For Rehab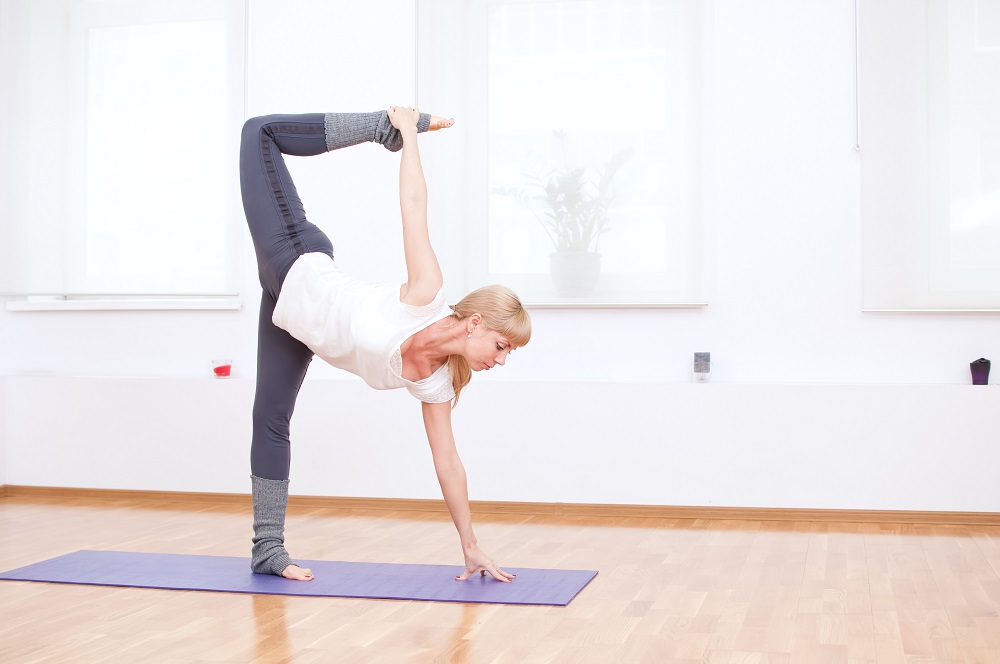 At The Centers for Advanced Orthopaedics (The Centers), we are always looking for innovative ways to treat patients – both surgically and non-operatively. In some cases, there is no avoiding surgery as a final treatment option. But what if you could treat – or even prevent – an injury by practicing yoga? Inspired by his wife, Dr. Asheesh Gupta has developed a series of practical and educational yoga workshops focusing on injury prevention and rehabilitation. Dr. Gupta works with patients dealing with various degrees of injury improve exponentially when practicing yoga.
Dr. Gupta is bringing a three-part Healthy Movement series covering hip, shoulder and knee strengthening exercises to Georgetown Yoga. Along with yoga instructor Jessica Sandhu, Dr. Gupta will break down the mechanics of each joint and teach specific yoga poses to strengthen and protect the surrounding muscles. Both beginners and experts will benefit from the workshop, with easy to understand explanations regarding the anatomy of the joints during each session. The workshops will be held on the following dates:
April 23 at 1:30 p.m. – Healthy Movement: Hips
May 20 at 1:30 p.m. – Healthy Movement: Knees
May 21 at 1:30 p.m. – Healthy Movement: Shoulders
We sat down with Dr. Gupta to discuss his inspiration and the benefits of yoga as a form of physical therapy.
How did you first realize the benefits of yoga for orthopaedic injuries?
My wife experienced a tear in the labrum of her hip. We had talked about surgery, as well as non-operative treatments including physical therapy. During this time we found out that certain muscle groups in her hip were weak leading to an imbalance and asymmetry compared to her unaffected side. We decided to try yoga to strengthen those muscles.
She mentioned to her yoga instructor that she had a prior hip injury, so they focused on certain weaker muscle groups. While she was in the class, the yoga instructor mentioned that she had a similar type of injury, as did several other participants. A light went off – my wife said, "You know, my husband treats these injuries. Would you be interested in learning more?" I met with the yoga instructor and we ultimately launched a series of classes in Arlington focused on hip, shoulder and knee injuries.
What is the format of these workshops?
We hosted 20-30 students during each of our classes last year in Arlington and are excited to build on the momentum with the upcoming workshops in D.C. We went over the anatomy of the joints so participants could have a deeper understanding of what was going on with their injuries. Then, we went over yoga positions and how to modify them for specific injuries. I'm collaborating now with a teacher at Georgetown Yoga, so we're going to do another series of workshops for shoulder, hip and knee injuries. Down the road, we may even have a series of classes related to each specific type of injury.
Do other orthopaedic surgeons typically recommend yoga?
I haven't seen other doctors do something like this before. It's kind of an out-of-the-box treatment option. Yoga is ideal for healthy people who are conscientious and want to get stronger. I now see the benefits of yoga for patients with injuries to rehabilitate or to prevent injuries.
What is the most valuable aspect of these workshops for attendees?
Patients have the opportunity to really understand their injury. You hear catchphrase terms from orthopaedic surgeons like 'impingement' – but most patients don't understand the actual anatomy. I break it down and help them understand the mechanics of the joints and the relevant anatomy of the muscle groups, which is very valuable.
The second part of the workshop is then figuring out how to work around the injury with various yoga postures. In the workshop, I'll go over my rehab protocol exercises and correlate them to certain yoga poses. It's all about managing the injury and modifying the yoga poses. For example, if you have bursitis of the hip, we'll use blocks initially when stretching the IT band in some of the poses to safely perform the posture and then teach you how to work your way through the pose and advance yourself.
Have you seen any results from patients or workshop attendees using yoga?
I have seen patients who have attended these workshops, and the yoga has really helped them quite a bit. Personally, as my wife has practiced yoga and strengthened her core, it has helped her immensely and decreased her hip pain. We have a newborn, and even carrying the baby was initially very painful for her. But she has made a lot of progress
Do you see yoga as a complement to traditional physical therapy, or as a standalone version of PT?
I think yoga is a complement to PT because physical therapy is usually prescribed for a finite period of time. Yoga is more of a long-term, preventative activity. You can practice it for years and years and continue to build strength. While physical therapy is designed for acute injuries, yoga strengthens the muscles for long-term care and injury prevention
What types of athletes would benefit from yoga to prevent injuries?
I see a lot of patients who have been injured in high-intensity workouts such as CrossFit. These types of workouts can be good in moderation, of course, but in a competitive environment, it's easy to sacrifice form to get your reps. When you push yourself past the point of fatigue, your muscles fatigue and you sacrifice your form leading to a higher risk of injury. I think yoga is a great option or complement for those high-intensity athletes because it's low impact and gives your ligaments and joints a chance to heal and stretch.
What are the most common injuries that you see that you ultimately believe would benefit from yoga as physical therapy?
I am primarily a hip surgeon so I see a lot of labrum tears or hip impingements, as well as bursitis of the hip. However, I believe yoga is a great fit for patients suffering from patellofemoral syndrome in their knees, as well as bursitis or impingement of the shoulder.
Dr. Asheesh Gupta is a hip preservation surgeon and sports medicine specialist at Nova Orthopedic and Spine care center in Woodbridge and McLean, Va. He specializes in hip arthroscopy and anterior-approach minimally-invasive total hip arthroplasty. He gained significant sports medicine experience through a fellowship with New York University. He pursued an additional year of training as a comprehensive hip fellow at the American Hip Institute where he performed hip arthroscopy for femoroacetabular impingement. He has been a team physician for the New York Rangers, Chicago Sky and UIC Flames. Dr. Gupta received his undergraduate and MPH degrees from the University of Michigan, medical degree from Michigan State University and completed his residency at the Department of Orthopaedic Surgery at the University of Illinois Medical Center in Chicago.