Innovations in Stemless Shoulder Surgery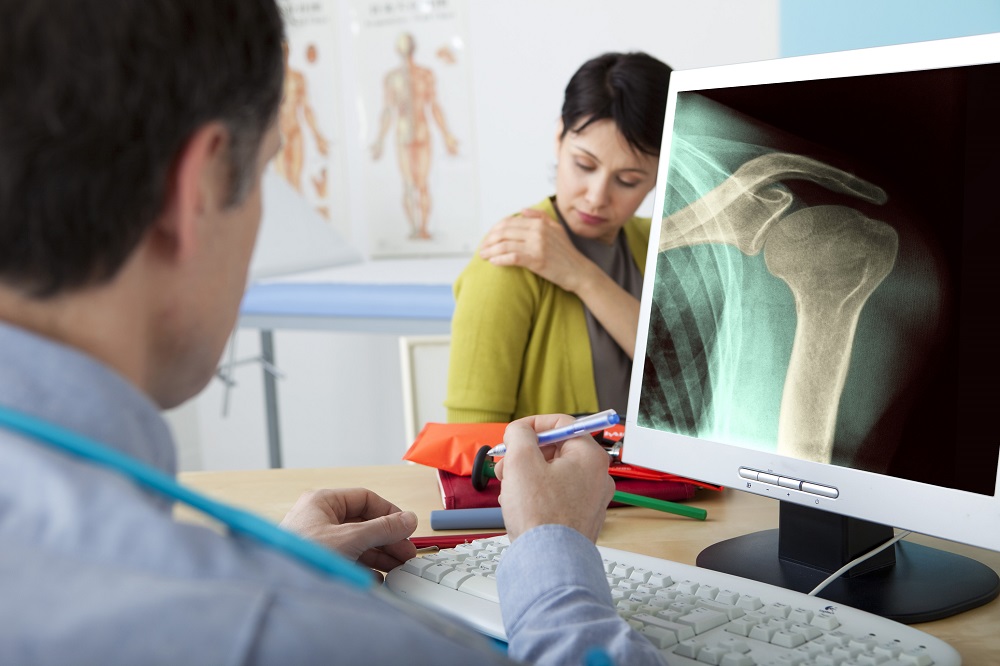 Last spring, Dr. Cyrus Press, a shoulder and elbow surgeon with our NoVa Orthopedic & Spine care center, was featured in an article in the Potomac Local about an innovative new surgical technique known as the stemless shoulder replacement. A less invasive surgical treatment, the stemless shoulder replacement is a great option for younger, active patients suffering from shoulder arthritis. Always at the forefront of medical innovations, The Centers for Advanced Orthopaedics was the first practice to perform the surgery in Northern Virginia back in December 2015 at the Sentara Northern Virginia Medical Center. We spoke with Dr. Press about the benefits of this surgical procedure and how he became an early adopter here in the Mid-Atlantic:
What types of patients do you see for traditional shoulder replacement surgery? Are there certain injuries or conditions that require a patient to undergo the surgery?
Candidates for shoulder replacement surgery typically suffer from shoulder arthritis. The arthritis can be genetic – something a patient is born with that develops over time – or it can result from a trauma to the shoulder, such as a sports injury. Shoulder replacement candidates range in age from 40 to more than 80-years-old. However, most patients fall between the ages of 50 and 60.
Are there other treatments, aside from surgery, for those conditions?
Yes, absolutely. Surgery is typically reserved as a last option and there are a number of alternative treatments that should be explored before the decision to have surgery is made. Generally, alternative treatment options include physical therapy, injections and various medications designed to treat shoulder pain. Patients can also work with their doctor to modify activity, which helps to identify and avoid activities that cause pain. Unfortunately this can be a limiting approach because it restricts the patient. Depending on the patient and the type of arthritis, a physician may recommend all or some of these alternatives. For every patient, there is a custom approach designed based on his or her pain, level of activity, medical history, etc.
You recently started performing the stemless shoulder replacement. How is this different from the traditional shoulder replacement surgery?
The stemless shoulder replacement is just that – stemless. In the traditional joint replacement surgery, a "stem" is surgically implanted into the humerus bone. In the stemless procedure, only the ball of the shoulder and a very small segment of the humerus is replaced, which speeds up recovery time for patients and preserves bone.
Who is a good candidate for the stemless shoulder surgery?
Younger, active individuals living with shoulder arthritis can benefit from the stemless shoulder surgery. For younger patients, the stemless shoulder replacement is a valuable way to preserve as much of the bone as possible, which will be particularly beneficial down the road should they need an additional surgery later in life. We also look for patients with good bone quality so the ball of the joint can remain secure. Patients suffering from osteoporosis, for example, are generally not qualified for this procedure due to their bone quality. Some patients can't accept the stem in the traditional joint replacement due to their anatomy and may benefit from this new procedure as well. I recommend that anyone interested in a stemless or traditional shoulder replacement should make an appointment with a shoulder specialist to learn if surgery is the right treatment option for them.
What are the benefits of the stemless shoulder replacement?
For qualified patients, there are several benefits of the stemless shoulder replacement. First of all, as mentioned previously, eliminating the stem preserves bone, which is critical in younger patients. It's also a great alternative for patients who may have previously broken their humerus, or who naturally have a crooked humerus, as these patients are typically unable to receive the stem.
In addition, the stemless shoulder replacement surgery is less invasive than the traditional approach, so patients experience less blood loss and are able to recover quicker. In fact, oftentimes, patients are able to go home the same day, rather than the one to two day inpatient recovery period that traditional shoulder replacement patients experience.
Finally, there is more flexibility in placing the ball of the shoulder joint in the stemless procedure. Traditionally, the surgeon must fit the ball and stem, but without the stem, there is no need to limit the ball of the joint.
How important is physical therapy in recovering from this specific procedure?
Physical therapy is a critical aspect of recovery. In fact, most patients start their PT one week after their surgery. Initially, patients are able to move as much as they can tolerate, but the physical therapist ensures that the muscle is working properly and helps to build muscle coordination. PT usually lasts between 6-12 weeks after surgery, and younger, more active patients can typically recover even more quickly.
How long have you been performing this procedure?
The procedure was FDA approved in mid-2015, and I've been performing it ever since. I was actually the first surgeon to complete the procedure in Northern Virginia. The procedure is now being completed by shoulder surgeons across the country, and is starting to gain traction.
This is still a fairly new procedure, correct? How did you become certified to perform the procedure?
I completed a fellowship in shoulder and elbow surgery, so I received advanced training in complex surgery, which credentials me to perform the procedure.
Do you think the surgery will continue to gain popularity?
As individuals continue to live an active lifestyle and develop arthritis over time, more and more patients will want a surgery that allows them to continue doing things they love. More importantly, they'll want to continue to do the things they love with comfort and ease. So, as procedures like the stemless shoulder replacement and other technologies develop, I believe there will be in an increased demand. Shoulder replacements are one of the fastest growing procedures in the country, and it is important for shoulder surgeons, like me, to work to advance the field to give patients the best possible treatment solutions and outcomes.
In addition to Dr. Press, Dr. Peter Johnson, a shoulder and elbow surgeon with our Southern Maryland Orthopaedic and Sports Medicine care center, was one of the early surgeons trained to perform the procedure in the state of Maryland. NBC Washington recently profiled one of Dr. Johnston's patients, who was experiencing severe shoulder pain and underwent the surgery on both of his shoulders. The Centers is proud to be at the forefront of medical innovation in all of the communities we serve.
Dr. Cyrus Press is an orthopaedic surgeon with the NoVa Orthopedic & Spine care center in Woodbridge and McLean, Virginia. He specializes in shoulder and elbow reconstructive surgery, offering procedures such as the stemless shoulder replacement, as well as arthroscopic rotator cuff repair, total and reverse shoulder replacement and ligament reconstruction. He was fellowship trained at the University of Texas Houston Health Science Center, and completed his residency at the University of Illinois Medical Center.