Innovations in Bunion Surgery
Published
February 5, 2018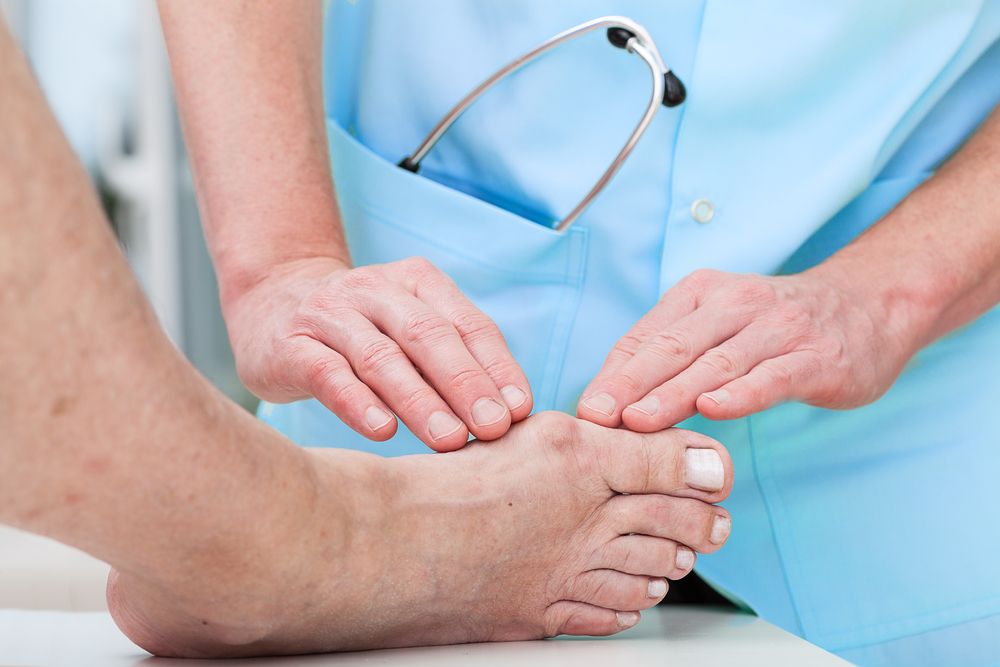 By Dr. Steven Neufeld
I'm an engineer by trade. Before I went to medical school, I studied engineering at the University of Pittsburgh. As my medical career progressed, I saw an opportunity to combine my expertise in both foot and ankle orthopaedic surgery and engineering to help make a positive change in the way we treat bunions.
A bunion is a painful deformity that develops at the joint of the big toe when the big toe pushes against the second toe. This forces the big toe joint to become enlarged and pushed outwards, which can cause pain and can really limit the shoes you can wear, especially for women. Dress shoes and any type of narrow shoes can become really painful for patients with bunions as the shape of their foot changes.
When I was undergoing training in foot and ankle surgery about 17 years ago, we treated bunions the traditional way: we would cut the bone and shift it into place, using screws to hold the bone in place. The foot would be placed in a cast or a boot and then patients would need to be non-weight bearing for at least six weeks as the corrected bone healed.
But I saw countless patients who didn't pursue surgery because they couldn't stay off their feet for that long, or who had the surgery and then experienced complications because they started walking too soon afterwards. Early walking caused screws to break, corrections to fail, pain to occur and a lot of unhappy patients. It's quite difficult for many patients, especially those who are elderly, to walk with crutches, making it tough for them to heal after surgery. This simply did not work for me– I knew there had to be a better way to treat my patients with bunions that could offer them a faster and easier recovery time with less pain after surgery.
So I used my background in engineering to develop a small, thin metal plate, which I developed in partnership with a German engineering company. I tested the plate extensively in a mechanics lab. I simulated weight bearing and determined that, by using the metal plate and four screws to hold the bone in its new, corrected position, patients could put weight on their foot right away. The foot would be protected in a boot or shoe for six weeks, but they could walk the next day and usually resume normal activity – work, driving, etc. – within a week or so. People could recover faster and easier, without the need for a cast or crutches, and they were able to ice the foot directly to help reduce pain, really improving the patient experience after surgery. The plate received a patent, became FDA approved, and ultimately, manufactured. The company started promoting and selling the plate and technique in the United States and around the world.
I recently studied and analyzed the clinical and X-ray data from the first 350 bunion patients who underwent this new technique. After we implanted the thin metal plate, patients were instructed to be weight bearing immediately after surgery. We studied radiographic outcomes, pain, function and complication rates. We determined that patients had relatively low levels of pain and disability, with an average score of 10.4 out of a possible score of 100 on the Foot Function Index, a scale developed to measure pain, disability and activity restriction. We found that about 4 percent of patients eventually wanted the plate removed. These were mostly older female patients with particularly thin feet. Otherwise, complication rates were extremely low. There were no adverse reactions to the plate and it was tolerated well.
Overall, the study shows incredibly successful results, and the FDA-approved technique is being adopted around the world. This innovative procedure impacts patients' quality of life not only by making the surgical procedure less daunting for patients, but also by helping to reduce their bunion pain and getting them back on their feet more quickly than the traditional method of treatment.
To read the full research report, click here: Immediate Weight Bearing After Hallux Valgus Correction Using Locking Plate Fixation of the Ludloff Osteotomy.
Dr. Steven Neufeld is a foot and ankle surgeon and the founder of The Orthopaedic Foot & Ankle care center, offering a variety of foot and ankle procedures including the total ankle replacement. Dr. Neufeld is a Clinical Professor in the Department of Orthopedic Surgery at Virginia Commonwealth University and a Clinical Instructor at Georgetown University Department of Orthopaedic Surgery. He is active in clinical and biomedical research, and is a fellow of the American Academy of Orthopaedic Surgeons, a board member of The Centers for Advanced Orthopaedics and a board member of the American Orthopaedic Foot & Ankle Society Foundation.